Last updated on September 7th, 2022 at 12:55 pm
The global pharmaceutical market, estimated at US$1.2 Trillion in 2019, is expected to expand at a Compounded Annual Growth Rate (CAGR) of 3-6% to US$1.5-1.6 Trillion by 2024.
Much of this is likely to be driven by the volume growth in pharmerging markets and the launch of high-end specialty innovative products in developed markets. However, overall tightening in pricing and patent expiry in developed markets could offset this growth.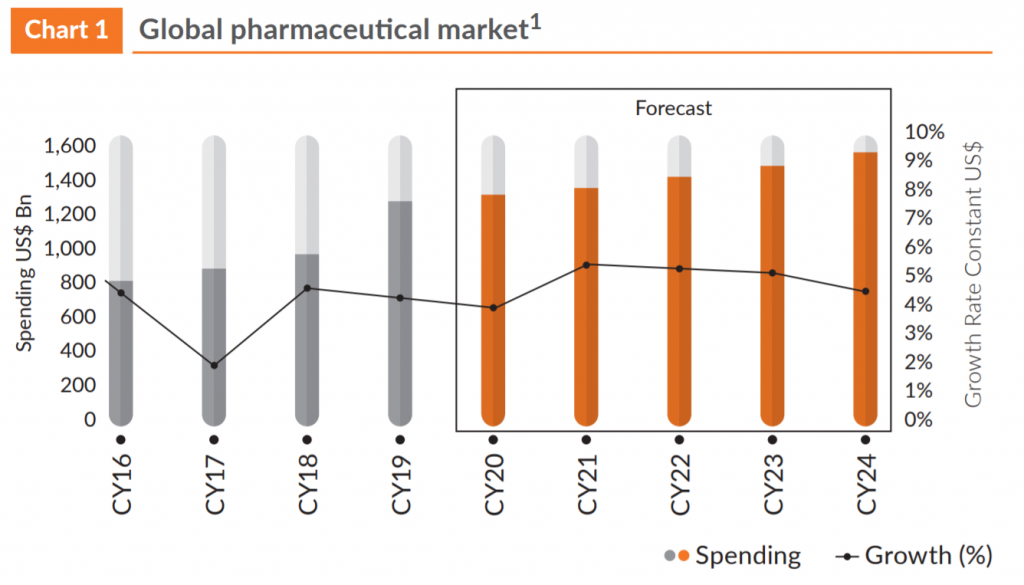 Outlook, implications and emerging trends
The US and pharmerging markets will remain key constituents of the global pharmaceutical industry – the former owing to size, and latter due to their growth prospects.
Pharmaceutical spending in the US is estimated to grow at 3-6% CAGR between 2019 and 2024, to reach US$605-635 Billion by 2024, while the spending in pharmerging markets, including China, is likely to grow at 5-8% CAGR to US$475-505 Billion by 2024.
Global Pharmaceutical Growth
These two regions will be key contributors to global pharmaceutical growth.

• Pharmaceutical spending in the top five western European markets (WE5) is likely to grow at 3-6% CAGR between 2019 and 2024 to reach US$210‑240 Billion by 2024.
• China's US$142 Billion pharmaceutical market is expected to grow at 5-8% CAGR to US$165‑195 Billion by 2024, while Japan's pharmaceutical spending growth is likely to remain range-bound at US$88‑98 Billion by 2024.
Global Pharmaceutical Industry
Innovator pharmaceutical companies will continue to explore new treatment approaches and technologies, as also breakthrough products to address unmet patient needs.
Their key research focus will be immunology, oncology, biologics and cell and gene therapies.
• Global R&D spend is estimated to grow at a CAGR of 3% by 2024, lower than that of 4.2% between 2010 and 2018, partially driven by companies' focus on smaller indications, with lower clinical development costs.
• Digital technologies will be the most transformative force for healthcare. The ongoing uptake for artificial intelligence and machine learning will carry important implications within data science for optimisation of decision-making, ethical handling of patient privacy, and proper use and management of extensive and complex data sets.
• Digital technologies are being leveraged significantly for patient-to-doctor connect currently since a face-to-face consultation may not be possible due to COVID-19. It remains to be seen if this trend will continue in the post COVID-19 period also.
• One of the most dependable sources to generate key patient insights will be genomic data, as it facilitates an understanding of the genetic basis of diseases and treating genetically driven diseases with targeted gene‑based therapies.
• Payors (reimbursement companies) are likely to keep working towards reducing costs. While initiatives to improve access to high-priced innovative products are being implemented, cost containment remains high on payors' agendas in the developed markets. This will contribute to a gradual moderation in the overall growth of pharmaceutical companies, especially in developed markets.
• In developed markets, there will be newer treatment options available for rare diseases and cancer, though they may come at a higher cost to patients in some countries. In pharmerging markets, wider access to treatment options and increased spending on medicines will have a positive impact on health outcomes.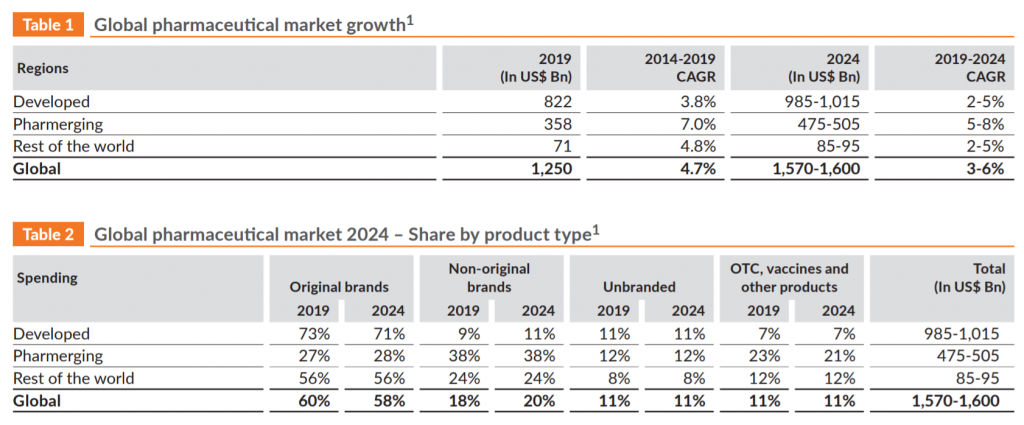 Developed Markets
Pharmaceutical spending in the developed markets grew at ~4% CAGR between 2014-19, and is estimated to grow at about 2-5% CAGR to reach US$985-1015 Billion by 2024. These markets accounted for ~66% of global pharmaceutical
spending in 2019, and are expected to account for ~63% of global spending by 2024.
USA Pharmaceutical Market
USA continues to be the largest pharmaceutical market, accounting for ~41% of global pharmaceutical spending. It recorded ~4% CAGR for 2014-19 and is expected to grow at 3-6% CAGR to US$605-635 Billion by 2024.
The growth is likely to be driven principally by the development and launch of innovative specialty drugs, but will be partly tempered down by expiring patents of existing drugs and cost reduction initiatives by payors.
Western European (WE5) markets
Pharmaceutical spending in the top five Western European (WE5) markets is projected to grow at about 3-6% CAGR to US$210-240 Billion by 2024. Launch of new-age specialty products will drive this growth.
Government-led price control initiatives to improve patient access is likely to act as a
counter-balancing force to this growth.
Japanese pharmaceutical market
The Japanese pharmaceutical market is expected to record flat growth between 2019-24 to about US$88 Billion.
Favourable government policies are resulting in rising generics use, coupled with periodic downward price revisions for pharmaceutical products. This will facilitate savings in healthcare spending, tempering down industry growth despite product innovations.


Pharmerging Markets
Pharmaceutical spending in pharmerging markets grew at ~7% CAGR during 2014-19 to US$358 Billion. Thee markets comprised ~28% of global spending in 2019 and
are expected to account for 30-31% of spending by 2024.
Pharmerging markets are likely to continue registering faster growth than developed markets, with a 5-8% CAGR through 2024, although lower than the 7% CAGR recorded during 2014-19.
Growth in pharmerging markets will be powered by higher volumes for branded and pure generic medicines led by increasing access among the populace. Some latest
generation innovative medicines are likely to be launched in these markets, but given the high price of such products, the uptake may be limited.
Indian pharmaceutical industry
The Indian pharmaceutical industry is one of the fastest growing, globally, and the largest exporter of generic drugs by volume. The domestic formulations market in India has recorded ~9.5% CAGR in 2014‑19 to reach US$22 Billion and is expected to grow at 8-11% CAGR to US$31-35 Billion by 2024.
India is uniquely positioned as a crucial supplier of pharmaceuticals by way of chemistry expertise, lower personnel costs and the ability to manufacture quality
medicines in compliance with global regulatory standards. It will continue to be an important player in the global generics market.
Specialty Medicines
The growing demand of specialty medicines has been a steady growth driver in global pharmaceutical spending during the last decade, especially in the developed markets.
Specialty medicines are used in the treatment of chronic, complex or rare diseases, which require advanced research and innovation (biologic drugs for chronic ailments,
immunology drugs, orphan disease treatments, gene and cell therapy, among others).
These products have made significant difference in patient outcomes. Given the higher pricing, majority of these products' uptake is likely to be in markets with robust reimbursement systems.
In ten years, from 2009 to 2019, the contribution of specialty products to the global pharmaceutical spending rose from 21% to 36%. Additionally, in the developed markets, contribution increased from 23% to 44%, while in the pharmerging markets, it grew from 11% to 14% by 2019.
The uptake of these products is slower in pharmerging markets due to absence of or inadequate prescription insurance coverage for the masses. The growth trend is expected to continue as more specialty products are developed and commercialised for unmet medical needs.
They are likely to account for 40% of global pharmaceutical spending by 2024, with the fastest growth expected to be in the developed markets, where contribution of specialty products is likely to cross 50% by 2024.
Oncology, autoimmune diseases and immunology are the main segments in the space, and will likely remain the key growth drivers in the 2019-2024 period.
Active Pharmaceutical Ingredients (API)
The global API market is projected to reach approximately US$232 Billion by 2024, growing at a CAGR of about 6%. Some key factors driving this is the spike in infectious diseases and chronic disorders.
The demand is being driven by consumption for manufacturing formulations in the
anti‑infectives, diabetes, cardiovascular, analgesics and pain management segments. Another factor is the rising use of APIs in novel formulations to pursue niche therapies like immunology, oncology, biologics and orphan drugs.
Consumer healthcare
Consumer health products do not require prescription from healthcare professionals and can be purchased Over The Counter (OTC) from a pharmacy store. The global OTC consumer health products market size was approximately at US$141.5 Billion for 2019, recording a growth of 3.9% over 2018.
It is projected to grow at 4.3% CAGR to reach ~US$175 Billion by 2024. Rising disposable income of consumers and spending on healthcare and wellness products are the major factors, likely to foster global market growth of OTC consumer health products.
Today's informed patients believe in taking better healthcare decisions and are engaging in effective health management through digital tools. Leveraging
uninterrupted access to information, the consumer is wielding growing power, leading to creation of new market segments and new models of healthcare.