Last updated on September 20th, 2022 at 08:34 am
Pinterest Inc is where 459 million people around the world go to get inspiration for their lives. They come to discover ideas for just about anything you can imagine: daily activities like cooking dinner or deciding what to wear, major commitments like remodeling a house or training for a marathon, ongoing passions like fly fishing or fashion and milestone events like planning a wedding or a dream vacation.
Profile of Pinterest Inc
Pinterest Inc incorporated in Delaware in October 2008 as Cold Brew Labs Inc. In April 2012, the company changed name to Pinterest, Inc. Pinterest Inc principal executive offices are located at 505 Brannan Street, San Francisco, California 94107, and our telephone number is (415) 762-7100.
The company completed initial public offering in April 2019 and our Class A common stock is listed on the New York Stock Exchange under the symbol "PINS."
Pinterest is the productivity tool for planning your dreams. Dreaming and productivity may seem like polar opposites, but on Pinterest, inspiration enables action and dreams become reality. Visualizing the future helps bring it to life. In this way, Pinterest is unique. Most consumer internet companies are either tools (search, ecommerce) or media (newsfeeds, video, social networks). Pinterest is not a pure media channel; it is a media-rich utility.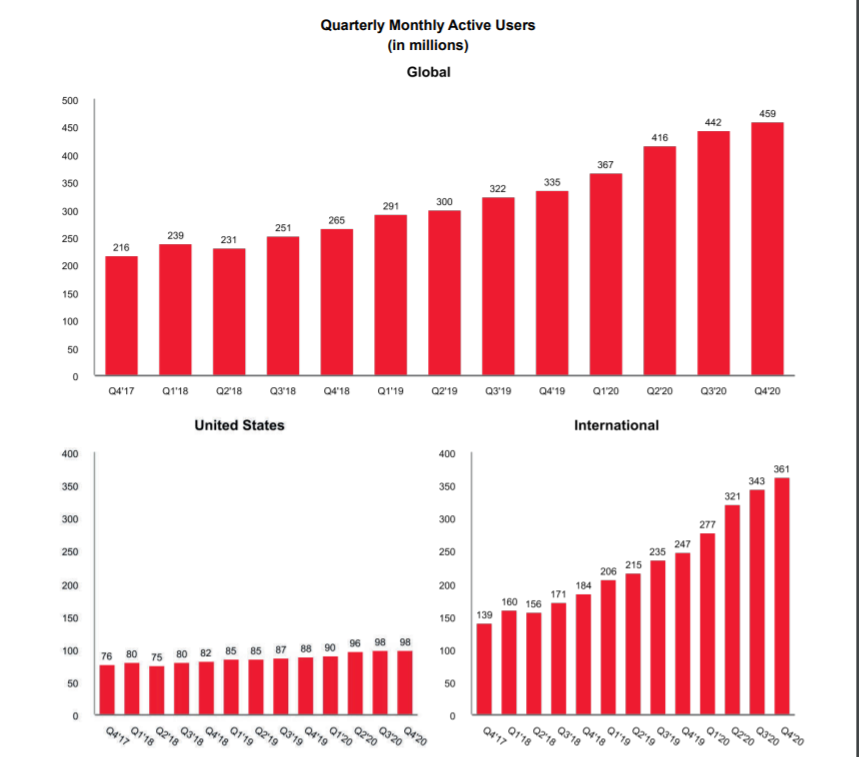 The company call these people Pinners. The company show them visual recommendations, which we call Pins, based on their personal taste and interests. They then save and organize these recommendations into collections, called boards. Browsing and saving visual ideas on service helps Pinners imagine what their future could look like, which helps them go from inspiration to action.

Visual Experience. People often don't have the words to describe what they want, but they know it when they see it. This is why the company made Pinterest a visual experience. Images and video can communicate concepts that are impossible
to describe with words.
The company believe that Pinterest is the best place on the web for people to get visual inspiration at scale. Visual searches are becoming more common on Pinterest, with hundreds of millions of visual searches per month.
We have invested heavily in computer vision to help people discover possibilities that traditional text-based search queries cannot offer. The computer vision models we've developed "see" the content of each Pin and optimize billions of related recommendations daily to help people take action on the Pins they've found.
Personalization. Pinterest is a personalized, curated environment. Most Pins have been handpicked, saved and organized over the years by hundreds of millions of Pinners creating billions of boards. As of December 31, 2020, our Pinners saved nearly 300 billion Pins across more than six billion boards.
The company call this body of data the Pinterest taste graph. Machine learning and computer vision help us find patterns in the data. We then understand each individual Pin's relationship not just to the Pinner who saved it, but also to the ideas and aesthetics reflected by the names and content of the boards where it's been pinned. We believe we can better predict what content will be helpful and relevant because Pinners tell us how they organize ideas. The Pinterest taste graph is the first-party data asset we use to power our visual recommendations.
When people organize ideas into collections on Pinterest, they are sharing how they contextualize that idea. When we scale human curation across hundreds of millions of Pinners saving nearly 300 billion Pins, we believe our taste graph and recommendations get exponentially better. The more people use Pinterest, the richer the taste graph gets, and the more an individual uses Pinterest, the more personalized their home feed becomes.
Designed for Action. People use Pinterest to visualize their future and to make their dreams a reality. Our goal is for each Pin to link back to a useful source—everything from a product to buy, ingredients for a recipe or instructions to complete a project. We have built features that encourage Pinners to take action on ideas they see on Pinterest, with a special focus on making it easy for people to purchase products they discover on our service.
Inspiring Environment. Pinners describe Pinterest as an inspiring place where they can focus on themselves, their interests and their future. We encourage positivity on the platform through our policies and product development — for example, Pinterest has banned political ads, developed inclusive beauty search functionality and rolled out compassionate search for Pinners seeking mental health support. This work is an important part of our value proposition because people are less likely to dream about their future when they feel self-conscious, excluded, unhappy or preoccupied with the problems of the day.
Inspiring Environment. Advertisers are in the business of inspiration. On Pinterest, businesses have the opportunity to showcase their products and services in an inspiring, creative environment. This is rare on the internet, where consumers' digital experiences can be stressful or negative, and brands can get caught in the crossfire. We believe that the inspirational and constructive feelings that many people experience on Pinterest make our site an especially effective environment for brands and creators to build an emotional connection with consumers.
Valuable Audience. Pinterest reaches 459 million monthly active users, about two-thirds of whom are female. The value of Pinterest's audience to advertisers is driven not merely by the number of Pinners on our platform or their demographics, but also by the reason they come to Pinterest in the first place. Getting inspiration for your home, your style or your travel often means that you are actively looking for products and services to buy.
Billions of searches happen on Pinterest every month. Commercial content from brands, retailers and advertisers is central to Pinterest. This means that relevant ads don't compete with native content on Pinterest; instead, they are content.
The mutually beneficial alignment between advertisers and Pinners differentiates us from other platforms where ads (even relevant ads) can be distracting or annoying. We are still in the early stages of building an advertising product suite that fully taps the value of this alignment between Pinners and advertisers, but we believe it will be a competitive advantage over the long term.
Inspiration to Action. Pinners use our service to get inspiration for things they want to do and buy in their real lives. This journey from ideation to action takes them down the entire purchasing "funnel", so our advertisers have the opportunity to put relevant promoted content in front of Pinners at every stage of the purchasing journey—when they are browsing through many possibilities without a clear idea of what they want, when they have identified and are comparing a handful of options and when they are ready to make a purchase. As a result, advertisers can achieve a range of awareness and performance objectives on Pinterest.
Pinterest Inc Competition
The company primarily compete with consumer internet companies that are either tools (search, ecommerce) or media (newsfeeds, video, social networks). The company compete with larger, more established companies such as Amazon, Facebook 12 (including Instagram), Google (including YouTube), Snap, TikTok and Twitter.
Many of these companies have significantly greater financial and human resources. We also face competition from smaller companies in one or more high-value verticals, including Allrecipes, Houzz and Tastemade, that offer users engaging content and commerce opportunities through similar technology or products to ours.
The company remain focused on emerging competition as well and face competition across almost every aspect of business, particularly users and engagement, advertising and talent.
Pinner Products
People come to Pinterest because it is filled with billions of great ideas. Each idea is represented by a Pin. Pins can be created or saved by individual users or by businesses.
When an individual user finds content like an article, image or video on the web and wants to save it, she can use browser extension or Save button to save a link to that idea to a board of a larger topic, along with an image representing the idea.
They can also save ideas within Pinterest as they get inspiration for ideas others have found. Additionally, Pinterest Inc are in the early days of introducing Story Pins, which enable creators to create Pins featuring their own original work, like a recipe they made, a beauty, style or home decor tutorial, or a travel guide. When people click on a Pin, they can learn more and act on it.
Businesses also create Pins on Pinterest Inc platform in the form of both organic content and paid advertisements. Pinterest Inc believe the addition of organic content from merchants adds significant value to the experience of both Pinners and advertisers, as Pinterest Inc believe Pinners come with the intent to try something new, and welcome content from brands.
Pinterest Inc expect that these Pins will become an even larger part of our content in the future. We have several types of Pins on our platform to inspire people and help them take action, including standard Pins, Product Pins, collections, Video Pins and Story Pins. More types of Pins and features will come in the future.
Standard Pins: Images with links back to original content from around the web, used to highlight products, recipes, style and home inspiration, DIY, and more.
Product Pins: Product Pins make items shoppable with up-to-date pricing, information about availability and links that go directly to the checkout page of a retailer's website.
Collections: Collections allow Pinners to shop for the individual products they see in the inspiring scenes on fashion and home decor Pins.
Video Pins: Video Pins are short videos on topics like how-to content about cooking, beauty and DIY that help Pinners more deeply engage by watching an idea come alive.
Story Pins: Story Pins are multi-page videos, images, text and lists that are natively created on Pinterest. This format enables creators to show how to bring ideas to life (e.g. how to cook a meal or design a room).
Planning
Boards are where Pinners save and organize Pins into collections around a topic. Every new Pin saved by a user must be saved onto a particular board and is associated with a particular context (such as "bedroom rug ideas," "electric
bikes" or "healthy kids' snacks").
Once the Pin has been saved, it exists on the board of the Pinner who saved it, but it also joins the billions of Pins available for other Pinners to discover and save to their own boards. Pinners access their boards in their profile and organize them however they prefer.
Pinners can create sections in a board to better organize Pins. For example, a "Quick Weekday Meals" board could have sections like "breakfast," "lunch," "dinner" and "desserts." A board can be made visible to anyone on Pinterest or kept private so only the Pinner can see it.
As Pinners plan projects, like a home renovation or a wedding, they can invite others on Pinterest to a shared group board. When a Pinner follows another person on Pinterest, they can choose to follow a select board or their entire account.
Discovery
People go to Pinterest to discover the best ideas to bring into their lives. They do this by exploring the home feed and search tools on service.
• Home Feed: When people open Pinterest, they see their home feed, which is where they will find Pins that are relevant to their interests based in part on their recent activity. Home Feed discovery is powered by machine learning recommendations based on previous activity and the overlapping interests of Pinners with similar taste.
They will also see Pins from the people, topics and boards they choose to follow. Every home feed is personalized to dynamically reflect the taste and interests of the Pinner.
• Search:
◦ Text queries: Pinners can search for Pins, broad ideas, boards, or people by typing in the search bar. Pinners who use search typically want to see many relevant possibilities that are personalized for their individual taste and interests rather than one perfect answer. Often, Pinners start by typing in something general like "dinner ideas," then use Pinterest's built-in search guides (like "weekday" or "family") to
narrow down the results.
◦ Visual queries: When a Pinner taps on a Pin to learn more about an idea or image, a feed of visually similar Pins is served beneath the tapped image. These related Pins help Pinners springboard off a point of inspiration to explore deeper into an interest or narrow in on the perfect idea.
Pinners also search within images by using Lens tool to select specific objects inside an inspiring scene e.g., a lamp in a living room scene or a pair of shoes in a street fashion scene. This action automatically triggers a new search that yields related Pins that are visually similar to the specific object. This is powered by years of computer vision that can identify objects and attributes within scenes.
Shopping: Pinterest is where people turn inspiration into action, as Pinners plan, save, and find things to buy that inspire them to create a life they love. The company is building a place to shop online—not just a place to find things to buy.