Last updated on October 29th, 2022 at 11:25 am
Intuit helps consumers, small businesses, and the self-employed prosper by delivering financial management and compliance products and services. The company also provide specialized tax products to accounting professionals, who are key partners that help us serve small business customers.
Profile Intuit Inc
Intuit Inc. was incorporated in California in March 1984. The company reincorporated in Delaware and completed our initial public offering in March 1993. The company principal executive offices are located at 2700 Coast Avenue, Mountain View, California, 94043, and main telephone number is 650-944-6000.
The Company global products and platforms, including
TurboTax,
QuickBooks,
Mint, and
Credit Karma, are designed to help consumers and
small businesses manage their finances, save money, pay off debt and do their taxes with ease and confidence so they are receiving the maximum refund they deserve.
$9.6B Revenue in 2021
20 – Twenty offices in nine countries
14,200 – Employees Worldwide
Customers: 102 Million
For those customers who run small businesses, the company is focused on helping them get paid faster, pay their employees, access capital, ensure their books are done right and find and keep customers.
The company serve approximately 100 million customers across our product offerings and platforms. The company had revenue of $9.6 billion in our fiscal year which ended July 31, 2021.
Intuit Inc Business
The company businesses into four reportable segments:
Small Business & Self-Employed: This segment serves small businesses and the self-employed around the world, and the accounting professionals who assist and advise them. Our offerings include QuickBooks financial and business management online services and desktop software, payroll solutions, time tracking, merchant payment processing solutions, and financing for small businesses.
Our Small Business & Self-Employed segment serves small businesses and the self-employed around the world, and the accounting professionals who assist
and advise them. Our goal is for QuickBooks to be the source of truth for each small business customer who uses our integrated platform. We work to make this
a reality through our three-pillared growth strategy: Grow the Core by transforming financial management software and meeting customers where they are;
Connect the Ecosystem, by meeting a wider range of customer needs with a single integrated platform; and expand our geographic footprint globally, by serving
small businesses around the world. With this strategy we enable a powerful ecosystem, personalized using artificial intelligence, to deliver a suite of right-for-me
solutions to a wide range of customers globally
Consumer: This segment serves consumers and includes do-it-yourself and assisted TurboTax income tax preparation products and services sold in the U.S. and Canada. Our Mint offering is a personal finance offering which helps customers track their finances and daily financial behaviors.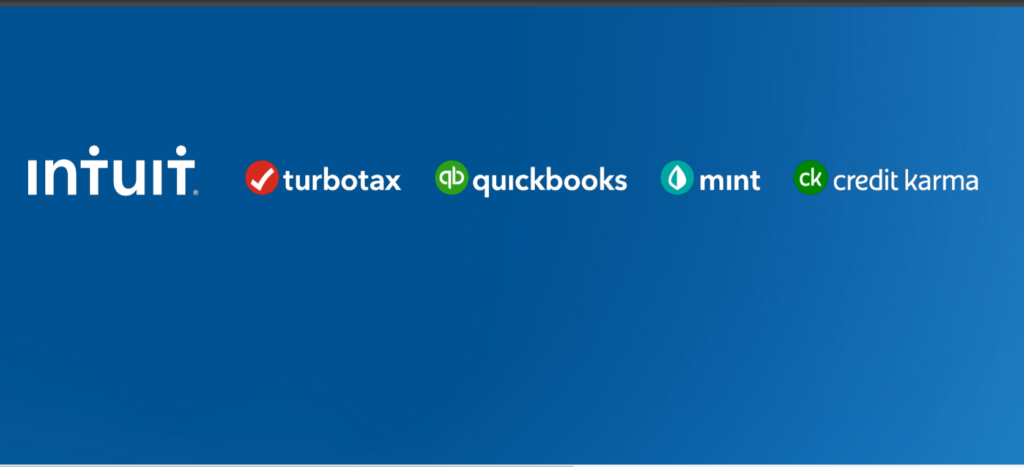 Credit Karma: This segment serves consumers with a personal finance platform that provides personalized recommendations of credit card, home, auto and personal loan, and insurance products; online savings and checking accounts through our partner, MVB Bank, Inc., member FDIC; and access to their credit scores and reports, credit and identity monitoring, credit report dispute, and data-driven resources.
ProConnect: This segment serves professional accountants in the U.S. and Canada, who are essential to both small business success and tax preparation and filing. Our professional tax offerings include Lacerte, ProSeries, and ProConnect Tax Online in the U.S., and ProFile and ProTax Online in Canada.
QuickBooks Online: Our QuickBooks financial management solutions help small businesses, the self-employed, and accountants solve financial and
compliance problems, make more money and reduce unnecessary work, while giving them complete confidence in their actions and decisions. Users can track
income and expenses, create and send invoices and estimates, manage and pay bills, and review a variety of financial reports.
QuickBooks Live enables our customers to obtain live bookkeeping advice from professionals. QuickBooks Online also comes with a powerful mobile app available on iOS and Android which enables customers to run their entire business from their phone.
The app provides the customers instant access to their QuickBooks data and includes powerful features that take advantage of mobile technology such as automatically tracking business miles or the ability to upload a picture of a receipt. QuickBooks Online is an open platform, enabling third-party developers to create online and mobile applications that integrate with our offering. A growing number of companies offer applications built for our QuickBooks platform, including PayPal, Shopify and Square.
QuickBooks Desktop Software: Our QuickBooks financial management solutions are also available as desktop versions for small businesses.
In addition to our core QuickBooks offering, we also offer specific solutions for the following customer segments:
• Mid-Market Small Businesses. QuickBooks Online Advanced and QuickBooks Enterprise offerings are designed for small businesses with 10 to 100 employees that have more complex needs. QuickBooks Online Advanced, Intuit's cloud-based offering, is specifically designed for high-growth, mid-market small businesses and leverages AI, automation and data insights to deliver more ways for them to grow and scale.
QuickBooks Enterprise is available for download and can also be provided as a hosted solution. This offering provides industry-specific reports and features for a range of industries, including Contractor, Manufacturing and Wholesale, Nonprofit, and Retail.
• Self-Employed. QuickBooks Self-Employed is designed specifically for self-employed customers whose needs are different than small businesses that use QuickBooks. Features include categorizing business and personal transactions, identifying and classifying tax deductible expenses, tracking mileage, calculating estimated quarterly taxes and sending invoices.
QuickBooks Self-Employed can be combined with TurboTax to export and pay year-end taxes. QuickBooks Self-Employed is available both online and via a mobile application.
• Product-Based Businesses. With QuickBooks Commerce, product-based businesses such as online sellers are able to access inventory and sales from multiple sales channels, manage orders and fulfillment, sync inventory across online and offline channels to avoid stockouts and gain profitability insights.
QuickBooks Commerce also helps small businesses attract and sell to new customers across multiple channels and ultimately grow their
business.
• Accountants. QuickBooks Online Accountant and QuickBooks Accountant Desktop Plus are available to accounting professionals who use QuickBooks offerings and recommend them to their small business clients.
These offerings provide the tools and file-sharing capabilities that accounting professionals need to efficiently complete bookkeeping and financial reporting tasks as well as manage their practices.
The company also offer memberships to the QuickBooks ProAdvisor program, which provides accountants access to QuickBooks Online Accountant, QuickBooks Accountant Desktop Plus, QuickBooks Desktop Enterprise Accountant, QuickBooks Point of Sale Desktop, technical support, training, product certification, marketing tools, and discounts on Intuit products and services purchased on behalf of clients.
Intuit's Mission
At Intuit, The company mission is to power prosperity around the world. All of customers have a common set of needs. They are trying to make ends meet, maximize their tax refund, save money and pay off debt.
Those who have made the bold decision to become entrepreneurs, and go into business for themselves, have an additional set of needs. They want to find and keep customers, get paid for their hard work, access capital to grow and ensure their books are right.
Across platform, the company use the power of technology to deliver three core benefits to our customers: helping put more money in their pockets, eliminating work and saving people time so they can focus on what matters to them, and ensuring that they have complete confidence in every financial decision they make.
The rise of Artificial Intelligence (AI) is fundamentally reshaping world — and Intuit is taking advantage of this technological revolution to find new ways to deliver on mission. The company is focused on capitalizing on this opportunity to improve prosperity globally and inspire our workforce, while investing in our company's reputation and durable growth in the future.
List of intuit inc subsidiaries
So here is the List of intuit inc subsidiaries
Applatix, Inc.
CBS Employer Services, Inc.
Chrono LLC
CK Progress, Inc.
Credit Karma, LLC
Credit Karma Insurance Services, LLC d/b/a Karma Insurance Services, LLC
Credit Karma Offers, Inc.
Credit Karma Technologies, Ltd.
Credit Karma Mortgage, Inc.
Credit Karma UK Holdings Limited
Credit Karma UK Limited
Computing Resources, Inc.
Electronic Clearing House, LLC
Exactor, Inc.
Exactor (Canada) Inc.
Global Karma, Inc.
Haven Money, Inc.
IFI Borrower SPV I, LLC
Intuit Inc.
Intuit Australia Pty Limited
Intuit Brasil Serviços de Informática Ltda.
Intuit Canada ULC
Intuit Consumer Group LLC
Intuit (Check) Software Ltd.
Intuit Do-It-Yourself Payroll
Intuit Financing Inc.
Intuit France SAS
Intuit Holding Ltd
Intuit India Product Development Centre Private Ltd.
Intuit India Software Solutions Private Limited
Intuit India Technology and Services LLP
Intuit Insurance Services Inc.
Intuit Limited
Intuit Mint Bills, Inc.
Intuit Mint Bills Payments, Inc.
Intuit Mortgage Inc.
Intuit Payment Solutions, LLC
Intuit Payments Inc.
Intuit Payroll Holding, LLC
Intuit Payroll Services, LLC
Intuit QuickBooks Mexico, Sociedad de Responsabilidad Limitada de Capital Variable
Intuit Sales Tax LLC
Intuit TT Offerings Inc.
Lacerte Software Corporation
Lion's Partners LLC
Maple Leaf Meerkat, LLC
Mint Software Inc.
Origami Logic Inc.
Origami Logic Ltd.
Origami Logic (Thailand) Co., Ltd
PayCycle, Inc.
Payroll Solution, Inc.
Quincy Data Center, LLC
Tech Approved Technologies, Inc.
The Rocket Science Group LLC d/b/a Mailchimp
TSheets Holdco Inc.
TSheets.com, LLC